I was walking down the toy aisle at Walmart the other day, when I came upon something that stopped me dead in my tracks. I had to stare at this oddity, sitting on the shelf, staring at me, before I said aloud, and to myself,
"This is f*&$!#  up."
I had to turn around quickly to make sure that there were no children in this aisle. I teach elementary school, for goodness sake. Teachers aren't supposed to throw around the f-bomb in the toy department of their local Walmart. But, I just couldn't believe what I saw.
What the hell happened to Barbie?
Now, I realize that it has been some years since I have played Barbie dolls with my daughter. She had twenty-one Barbies and had names for them all. Well, of course she would name them. You have to. It's a rule. But, I remember a different Barbie than the ugly, bloated, botox-faced  doll that stood in front of me….in a box. I just wanted to tear into each of their packaging and tear their little heads off. Not because I am a loon, but because these were imposters. That's not Barbie. These so-called dolls look like the dolls my daughter got for the $2 gift exchange in kindergarten. Imposter Barbies. Now the Barbies are copying off of the imposter Barbies. You are following me, right?  And I'm not talking about the clothing. The outfits Barbie wears are awesome. Whoever the designer is a Mattel should get a high-five. No, I'm talking about their faces, their bodies. The mold was broken somewhere along the way and replaced by some cheaply made Barbie body. A plastic deformation has taken place…It takes a lot for me to curse in the toy aisle at Walmart.
I had the very first Barbie doll. The first Barbie appeared in the stores in March 1959. I was just three years old. I don't know if she bought it then, but I had it. I probably toddled around, clenching Barbie in one little hand and my Lassie stuffed dog in the other.
I don't know why I am being so overprotective of Barbie in 2012, because I didn't treat her so kindly back in the early sixties. I sort of feel bad for what I did to her.
As I got older, I really enjoyed playing with Trolls. Trolls were big from 1963-1965. Barbie sort of got shoved off to the side while my friends and I bought trolls and everything that came with them. Lee Ann was the first to have a troll house. What?? There's a troll house? Dear God, I had to have one too. We would all get together and play with our trolls. We would comb their hair and have great conversations.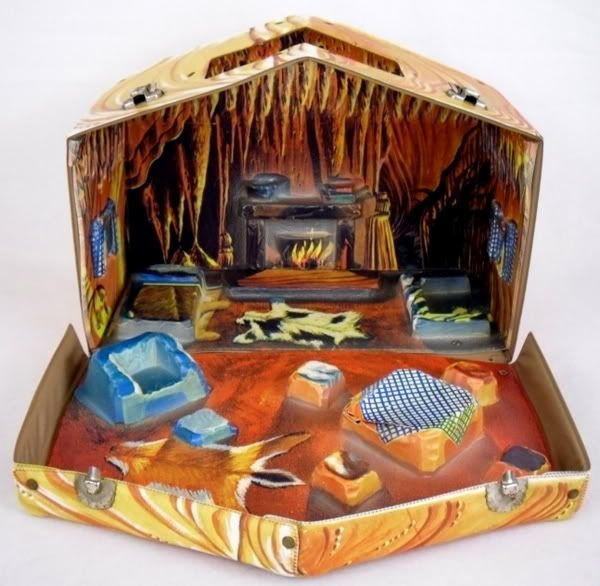 I mean, is this not the greatest thing you have ever seen? I was salivating when I was little when I saw Lee Ann open this case. I realized at this very moment that I would never play with Barbie dolls ever again.

Oh, but I did play with Barbie dolls again. Sort of.
We had a clothes chute that ran from inside my parent's closet to the basement, right beside the washing machine. I'm thinking that was done on purpose. Anyway, one day when Ramaine and LeeAnn weren't around, I played trolls with my sister.  It was time for…..
Barbie in Peril
Or something like that. We set up a troll make believe campfire made with a few of my brother's Lincoln Logs near their troll house/cave. I had watched enough Tarzan movies to know that the jungle natives put people in pots to cook them. So, that's what was going to happen to Barbie. She was going to be cooked by the trolls (jungle natives).
I don't know how this happened. Trolls were always sweet little creatures that lived in a cave. But, when I didn't get to play with Ramaine and LeeAnn and had to play with my little sister, I guess I was mad. And therefore, my trolls became mean. Mean enough to cook someone in a pot.
My sister put a piece of twine, which I think was really the dog's leash, around Barbie, and lowered her down the clothes chute until she was over the campfire. We let her hang there for a while. I do remember her swinging back and forth for a few minutes. We made native noises like they did on Tarzan and then I did something absolutely horrible to Barbie. If my mom saw me do this, she would have taken me to a shrink a minute later. But, hey, we were playing human sacrifice and sometimes, just sometimes, Barbie had to be tortured.
I took the earring out of her ear and plunged the tiny needle point into her chest. Well, her breast. And then I put her in the campfire pot (mason jar.) Barbie was going to be dinner.
I sound like a little Jeffrey Dahmer in the making. It sounds like something stupid brothers would do. One one hand, I'd like to think that I was just really being creative. I mean, I looked through pictures of the National Geographic and watched Tarzan. I knew all about Ubangi's and native jungle people. And on the other hand, I feel like, years later, I need to apologize for being a part of a tortuous duo. I'm pretty damn sure this was all my sister's fault. But, I feel compelled to write an apology to my first Barbie doll.
Dear Barbie,
    I am sorry I stabbed you in the breast with one of your own earrings. I will never do it again.
                                                                           Love,
                                                                         Vickie
My mom gave my Barbie dolls away to our stupid church when I went away to college. They had been packed away since I was in junior high. She never asked me if I wanted them. I did. That first Barbie doll is pretty valuable now. But, some little church going snot got my Barbie doll.
I wonder what she thought when she took off her swim suit, only to discover that Barbie had pin holes in her breasts. What's your Barbie doll worth now, huh?
Ok, I'm done ranting. But, you know, it's like everything else. If it ain't broke, don't fix it.